About Nancy Bilyeau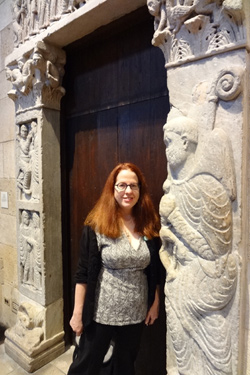 Nancy Bilyeau was born in Chicago, Illinois, and grew up in Michigan. She studied English literature and American history at the University of Michigan, earning a bachelor's degree, before moving to New York City to work in the magazine business. She was a staff editor at Rolling Stone, Entertainment Weekly, Good Housekeeping and InStyle.
In 2010 she sold her first novel, The Crown, to the Touchstone imprint of Simon & Schuster. A thriller set in Tudor England, it was an Oprah magazine pick and nominated for the Crime Writers Association's Ellis Peters Historical Dagger Award. She wrote two more books featuring the same main character, a Dominican novice named Joanna Stafford.
With her fourth novel, a standalone thriller set in the 18th century art world titled The Blue, she told a story of espionage and obsession with the most beautiful color in the world. In creating Genevieve, the Huguenot artist who goes undercover in a porcelain factor, she drew on her own background. Nancy is descended French Huguenot Pierre Billiou, who came to what was then New Amsterdam in 1665 and built a stone house on Staten Island. It's the third oldest house in New York State.
Nancy is now turning her writing talent to creating novels set in the New York City of the past. For her fifth novel, Dreamland, she spent time in Coney Island and was assisted by the staff at the Coney Island Museum. She also did research at the New York Public Library, the New York Historical Society, the Museum of the City of New York, and the Brooklyn Historical Society.
Her novella, The Ghost of Madison Avenue, is also set in the New York City of the 1910s, with an Irish American widow who solves a mystery at J.P. Morgan's sumptuous private library.
Author Q&A
Both your first novel, The Crown, and The Chalice are set in 16th century England. Why have you chosen this particular time period? What resonance does it have for you?
Before I had a protagonist or a single character, I had my chosen time period: the 16th century. I never get tired of reading about it or thinking about it. I guess I'll be in trouble if I do. I am not sure why I am so captivated—it's an intoxicating time, it's the transition from Middle Ages to Early Modern England, with Shakespeare and Erasmus, those vivid Holbein portraits, the music, the fashion, everything.
Explain how you decided to write another novel featuring Joanna Stafford after writing your debut The Crown. Are there any other adventures in Joanna's future?
From the first, I envisioned a series of books about Joanna. I love discovering a book series myself, to know that something I am enjoying so much will be followed by another story by the same author, featuring the same main characters. I want to give readers that feeling when they are reading The Crown and The Chalice. And yes, I have more ideas. I think as I go, I get bolder, too. The adventures will become more surprising.
Of all the many facets of the reign of Henry VIII, you chose to focus on the dramatic religious changes. Why this particular aspect?
The marriages and sex life of Henry VIII have been written about quite a bit. They are dramatic fodder for storylines, but ultimately the people who were primarily affected by the king's many marriages were the wives, children, and extended family. The daily life of a typical English man or woman was not altered by whether Henry VIII was married to Catherine Howard or Catherine Parr. But the violent wrench from Catholic to Protestant affected the entire country in profound ways. Since I wanted to create fictional characters in a time of change, if not chaos, I chose the religious conflict as engine for my narrative. I sought to understand what it would be like to live through a forced reformation. Religious faith was central to your life in the 16th century, and there was little understanding of freedom of expression, of freedom of speech. You had to adhere to the will of the king, who most believed was anointed by God, or face pretty dire consequences.
There is a great deal of historical detail in The Chalice. What methods of research did you use to gain such breadth of knowledge? Can you describe how you dealt with the mixing of history and fiction?
I was already very interested in Tudor England when I started my first novel. I have a home library of many books of nonfiction. To write my second book, I took a year off, essentially, and went to the New York Public Library and read extensively in many subjects, from medieval astrology to fashion trends to the streets curfews of London to the intricate European politics of 1538, just lots and lots of reading. I had notebooks full of information.
I also traveled to England to research The Chalice. I spent time inside Dartford's Holy Trinity Church, which is still a functioning church in the center of town; I walked the High Street where Joanna and Edmund and Geoffrey would have walked. I found the block in London where the Red Rose once stood, and I re-visited the Tower of London.
It was quite unnerving to stand on the spot where Henry Courtenay and Henry Pole, Baron Montagu, were executed on Tower Hill. And I spent hours searching for the remains of Blackfriars. It was once a thriving, massive monastery, now all that you can find is a bit of wall in a park.
I do like to mix in "real" people from this time, to take a deep breath and decide for myself what Mary Tudor would have looked like, sounded like, behaved like, and then set her in motion. It's a thrilling creative challenge. In my books, quite a bit of what happens is "real." It's faithful to recorded history.
What drew you to the world of prophecy and seers? What are your personal beliefs about such phenomenon?
What has not often been written about is how much prophecy and astrology—the arts of seeing into the future—was woven into life. Being religious did not rule out belief in these other ways, many of which pre-dated Christianity. The Tudor-era Popes had their own astrologers, I find that fascinating. Because it was a period of tremendous religious and cultural upheaval, I think people sought out seers more than a generation earlier, to get some answers. Henry VIII himself did not like prophesizing because it strayed into what would happen to him and whether he would have a son to follow him. That was treasonable. As for what I believe, I haven't quite made up my mind.
What has been your inspiration for both The Crown and The Chalice?
The ideas suddenly come into my head, I don't have a source of creative inspiration. Just my imagination, mixed with love of Tudor England and wanting to bring it to life. I do like to get into the mood for writing my Tudor novels, whether it's listening to Thomas Tallis, or visiting The Cloisters Museum of the Metropolitan Museum of Art, or taking a very long walk in the snow.
Do you see parts of yourself in Joanna Stafford? In any of the other characters?
I've been told that in some respects I am like Joanna but I don't see it myself. The only trait that I possess that I deliberately gave her is I have a bad sense of direction. It's frustrating!
Most of your female characters are very strong. Did you consciously craft the book around strong female characters? Are you, in effect, making a feminist statement in writing The Chalice?
I want to write about strong women. Not paragons who effortlessly do the right thing and conquer all obstacles, but women who use their brains and their inner resources to struggle to get what they need, to do what is right. I am drawn to determined women. It could be argued that the story of Joanna Stafford is of a feminist, two and a half centuries before Mary Wollstonecraft. But I don't want to create an anachronistic character—in the 1530s women simply did not have many rights. Still, you only have to read about Anne Askew or Bess of Hardwick to know that within this period, women could be forceful and act with some independence. Or simply look at Elizabeth the First.
When you began writing, did you know that Joanna Stafford would end up not marrying Edmund Sommerville? Or did you discover this during the process of writing? Have you imagined a future for Joanna beyond this book?
I never imagined Joanna marrying him in this book. The complexities and contradictions of their relationship deepened while I was writing. I am pleased that some readers are so taken with Edmund. I like to think he is an original character.
You have worked on the staffs of InStyle, Rolling Stone, Entertainment Weekly, and Good Housekeeping, and are now a features editor of DuJour Magazine. What inspired you to begin writing novels? How do you balance the different demands of magazine editing and novel writing?
I didn't think about writing novels while building a career in magazines. But after I gave birth to my son, I felt a craving to tell my own stories. I wrote a few screenplays and got pretty far in writing competitions—I have a manager for screenwriting—but then I joined a fiction workshop and was deeply bitten by the bug. I wrote at night or on weekends at Starbucks, an hour here, an hour there. I took some "staycations" when I did research and wrote. I started getting up early in the morning to write fiction before everyone else wakes up. That is a system that works, and I still do it: waking up early to write.
What writers have most deeply inspired and influenced you?
My first love was Daphne du Maurier, and I think her books hold up very well. I re-read them all the time, and I have to assume she has influenced me. I read a lot of historical fiction when I was young, primarily Norah Lofts, but also Jean Plaidy and Mary Stewart. When I was at college, I studied F. Scott Fitzgerald and Ernest Hemingway. I've read almost all the books of Edith Wharton and Henry James. I'd have to say I'm influenced by Edgar Allan Poe, Bram Stoker, and Wilkie Collins too. I really love Mary Renault and Robert Graves—they are sources of great inspiration. Most recently, I have gotten so much from reading A.S. Byatt, Katherine Neville, Elizabeth Kostova, and Ariana Franklin.
© Nancy Bilyeau.