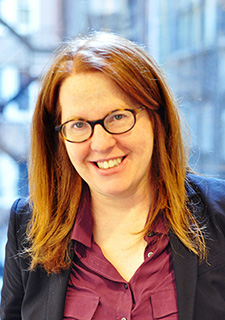 Whether it's writing a trilogy of thrillers set in the reign of Henry VIII, interviewing the top novelists in suspense fiction, or celebrating a love of history both near and far in magazine features, Nancy Bilyeau is a passionate craftsman of the written word.
ANNOUNCEMENT: MY NEW NOVEL THE BLUE PUBLISHES DECEMBER 3, 2018!
I have some tremendous news. I've written a fourth historical thriller and I have a new publisher for it. With this novel, I'm jumping to another century, one I've long been fascinated by... the 18th! With The Blue, the question becomes: What would you do for the most beautiful color in the world?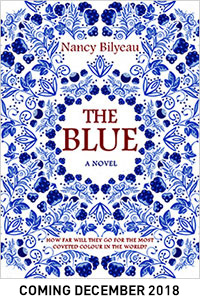 The year is 1758, and a headstrong woman artist, 24-year-old Genevieve Planche, is caught up in a high-stakes competition to discover the ultimate color that threatens to become as deadly as it is lucrative. The story sweeps readers from the worlds of the silk-weaving refugees of London's Spitalfields and the luxury-obsessed drawing rooms of Grosvenor Square to the secretive porcelain factory of Derby and, finally, magnificent Sevres Porcelain, in the shadow of Versailles. And running through it all: the captivating history and dangerous allure of the color blue.
As soon as I have more details to share on the publication, I'll share them. The best way to keep up with developments is to sign up for my newsletter, if you haven't already. I will send out the first news about giveaways and reviews and pre-sales in the newsletter, plus I have an extra chapter from The Tapestry, never seen before, that I will send to anyone who subscribes.
Praise for Nancy Bilyeau's Fiction:

"Bilyeau deftly weaves extensive historical detail throughout, but the real draw of this suspenseful novel is its juicy blend of lust, murder, conspiracy, and betrayal."
—Review of The Crown published in Oprah, which made the book a pick of the month.

"English history buffs and mystery fans alike will revel in Nancy Bilyeau's richly detailed sequel to The Crown."
—Parade magazine review of The Chalice
"The story in The Tapestry is fiction, but it is a sheer joy to have Henry's court recreated with an eye to the reality of its venality, rather than the trendy Wolf Hall airbrushing of its violence and rapacity. The tone is always modern and light, but with none of the clumsy thigh-slapping faux period language. Bilyeau's writing is effortless, vivid, gripping and poignant, bringing Tudor England to life with sparkling zest. If you want to see the Reformation from the side of the English people rather than the self-serving court, it is tough to do better than this trilogy."
—Review of The Tapestry by Dominic Selwood, published in The Catholic Herald
"As always, Bilyeau has done her historical homework, bringing the drama, and details of Henry VIII's court to life. You're basically watching the rise and fall of Catherine Howard, Thomas Cromwell, Walter Hungerford and Thomas Culpepper through Joanna's eyes. Her private moments with the king were among my favorites in this book. This a true historical thriller. It's a Tudor novel full of suspense, intrigue, brutality, and death. It's a well researched page turner. If you're looking for an exciting historical read, this will be on your list."
—Review of The Tapestry by Sandra Alvarez for Medievalists.net
"Nancy Bilyeau's passion for history infuses her books and transports us back to the dangerous world of Tudor England. Vivid characters and gripping plots are at the heart of this wonderful trilogy. Warmly recommended!"
—Alison Weir, author of The Marriage Game: A Novel of Queen Elizabeth I and many bestsellers
"Nancy Bilyeau's polished, inventive debut has all the ingredients of the best historical fiction: a broad cast of characters, well-imagined settings, and vivid story-telling... In Joanna Stafford, Bilyeau has given us a memorable character who is prepared to risk her life to save what she most values, while Stafford's desperate search for a lost religious relic will satisfy even the most ardent mystery fans."
—Deborah Harkness, author of A Discovery of Witches
---
For the latest on Nancy's book series, her nonfiction articles on history, her book reviews, giveaways, contests and more, sign up for her newsletter here:

Follow Nancy on Twitter to find out news on her books and tidbits on history @tudorscribe

Like Nancy's Facebook author page at NancyBilyeauAuthor
© Nancy Bilyeau.