"Nancy Bilyeau's passion for history infuses her books."
–bestselling historian and novelist Alison Weir
---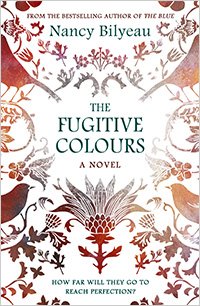 THE FUGITIVE COLOURS
To be published May 12, 2022, in the U.S., the UK, Canada, and Australia, in original paperback, audiobook, and ebook. To order the novel, click here.
"Set in Georgian-era London, The Fugitive Colours is an immersive historical mystery full of surprising twists."
—Foreword Reviews
As Genevieve Sturbridge struggles to keep her silk design business afloat, she must face the fact that London in 1764 is very much a man's world. Men control the arts and sciences, men control politics and law. And men definitely control women.

A Huguenot living in Spitalfields, Genevieve one day receives a surprise invitation from an important artist. Grasping at the promise of a better life, she dares to hope her luck is about to change and readies herself for an entry into the world of serious art.

She soon learns that for the portrait painters ruling over the wealthy in London society, fame and fortune are there for the taking. But such high stakes spur rivalries that darken to sabotage and blackmail—and even murder. And watching from the shadows are ruthless spies who wish harm to all of England.

A sequel to Nancy Bilyeau's The Blue, The Fugitive Colours again reveals a dazzling world of glamour and treachery in Georgian England, when beauty held more value than human life.

---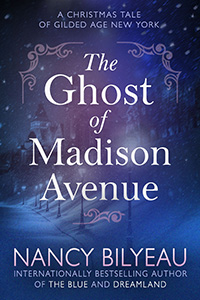 Nancy has published a novella set in Old New York that reviewers have fallen in love with. In this compelling and poignant story, you will plunge into a mystery set in New York City's Morgan Library in December 1912, when two very different people haunted by lost love come together in an unexpected way.
Helen O'Neill, part of a tight-knit Irish-American family in the Bronx, is only too happy to report to work at the spectacular private library built on Madison Avenue by millionaire financier J. P. Morgan. The head librarian, the brilliant and beautiful Belle da Costa Greene, had hired Helen away from the Metropolitan Museum of Art after she witnessed Helen's unusual talent with handling artifacts.
Helen soon discovers the Morgan Library is a place like no other, with its secret staircases, magical manuscripts, and mysterious murals. But that's nothing compared to a person Helen alone sees: a young woman standing on Madison Avenue, looking as if she were keeping watch. In learning the woman's true link to the Morgan, Helen must face the pain of her own past. She finds herself with a second chance at happiness that could only happen on Christmas Eve—if she has the courage.
Order The Ghost of Madison Avenue here: mybook.to/Madison
---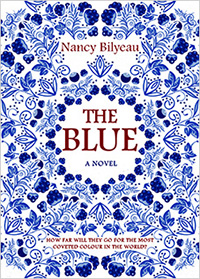 THE BLUE
Published Dec. 3, 2018
Paperback, ebook, audio
"Fascinating"
—Ian Rankin, author of the top-selling Inspector Rebus series
"Definitely a winner!"
—Kate Quinn, bestselling author of The Alice Network
"Transports the reader into the heart of the 18th century porcelain trade—where the price of beauty was death"
—E.M. Powell, author of the Stanton & Barling medieval mystery series
In eighteenth century London, porcelain is the most seductive of commodities; fortunes are made and lost upon it. Kings do battle with knights and knaves for possession of the finest pieces and the secrets of their manufacture.

For Genevieve Planché, an English-born descendant of Huguenot refugees, porcelain holds far less allure; she wants to be an artist, a painter of international repute, but nobody takes the idea of a female artist seriously in London. If only she could reach Venice.

When Genevieve meets the charming Sir Gabriel Courtenay, he offers her an opportunity she can't refuse; if she learns the secrets of porcelain, he will send her to Venice. But in particular, she must learn the secrets of the colour blue…

The ensuing events take Genevieve deep into England's emerging industrial heartlands, where not only does she learn about porcelain, but also about the art of industrial espionage.

With the heart and spirit of her Huguenot ancestors, Genevieve faces her challenges head on, but how much is she willing to suffer in pursuit and protection of the color blue?

---

THE CROWN, THE CHALICE, THE TAPESTRY
The Joanna Stafford Tudor Trilogy
Hardcover, paperback, ebook, audio
To order these books, go here.
"Bilyeau deftly weaves extensive historical research throughout, but the real draw of this suspenseful novel is its juicy blend of lust, murder, conspiracy, and betrayal."
—O, The Oprah Magazine, pick of the month
"Part The Da Vinci Code, part The Other Boleyn Girl, THE CROWN will keep you guessing until the very end!"
—Woman's Day

"In Joanna Stafford, Bilyeau has given us a memorable character who is prepared to risk her life to save what she most values."
—Deborah Harkness, author of the bestselling Discovery of Witches series

"THE CHALICE is an engrossing mix of the complicated politics of the Reformation with the magical elements of the Dominican order, and Joanna—fiery, passionate, determined to honor what she thinks God wants her to do—is a fascinating character. Fans of historical mysteries, Tudor politics and supernatural fiction will all be pleased by the broad scope, quick-moving plot and historical integrity of Bilyeau's second novel."
—Shelf Awareness

"A master of atmosphere, Nancy Bilyeau imbues her novel with the sense of dread and oppression lurking behind the royal glamour; in her descriptions and characterizations . . . Bilyeau breathes life into history."
—Laura Andersen, author of The Boleyn King

In THE CROWN, an aristocratic young nun, Joanna Stafford, is imprisoned in the Tower for breaking the sacred rule of enclosure and, in exchange for her freedom and her father's life, is charged to find a hidden legendary relic that could save the way of life that she loves from Cromwell's advancing army of destruction. In THE CHALICE, Joanna is given an impossibly dangerous task and must use every ounce of her intelligence and courage to thwart the most powerful men of her era while struggling to escape an unearthly prophecy. And in THE TAPESTRY, Joanna is compelled to attend the court of Henry VIII, her distant cousin, but is nearly killed and must discover who among her enemies wants her dead, enlisting the help of such allies as artist Hans Holbein and alluring Tudor queen Catherine Howard.
---
For the latest on Nancy's book series, her nonfiction articles on history, her book reviews, giveaways, contests and more, sign up for her newsletter here:

Follow Nancy on Twitter to find out news on her books and tidbits on history @tudorscribe

Like Nancy's Facebook author page at NancyBilyeauAuthor
© Nancy Bilyeau.