My new novel, The Blue, an 18th century story of suspense, is on sale!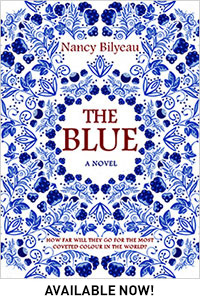 I couldn't be more pleased to tell you about my fourth novel, The Blue, set in 18th century England and France. I'm eager for readers to immerse themselves in the world of my main character, Genevieve Planché, a young and rebellious Huguenot artist on a quest for a color: the most exquisite shade of blue.
Goodreads selected The Blue as one of five recommended historical novels published in December 2018. As Publishers Weekly says, "An intriguing thriller... historical fans will be well satisfied."
The story unfolds...
In 18th century London, porcelain is the most seductive of commodities; fortunes are made and lost upon it. For Genevieve Planché, an English-born descendant of Huguenot refugees, porcelain holds far less allure; she wants to be an artist, a painter of international repute, but nobody takes the idea of a female artist seriously in London. If only she could reach Venice.

When Genevieve meets the charming Sir Gabriel Courtenay, he offers her an opportunity she can't refuse; if she learns the secrets of porcelain, he will send her to Venice. But in particular, she must learn the secrets of the color blue...

The ensuing events take Genevieve deep into England's emerging industrial heartlands, where not only does she learn about porcelain, but also about the art of industrial espionage.

With the heart and spirit of her Huguenot ancestors, Genevieve faces her challenges head on, but how much is she willing to suffer in pursuit and protection of the color blue?
---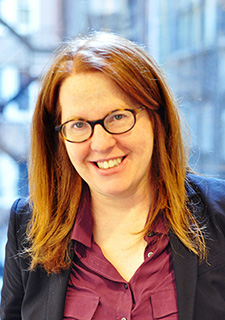 Praise for Nancy Bilyeau's Fiction:

"Nancy Bilyeau's passion for history infuses her books"
—Alison Weir, bestselling author
"Bilyeau is an impressive talent who in The Blue brings to life a heart-stopping story of adventure, art and espionage during the Seven Years War. Her courageous heroine's ambition comes up against the social walls of the art world that would condemn her to a life of painting posies. And her growing love for a mysterious scientist will take her across treacherous waters where her religion is forbidden, in the court of Louis XV. An engaging, informative tale!"
—Stephanie Dray, co-author of My Dear Hamilton
"...transports the reader into the heart of the 18th century porcelain trade—where the price of beauty was death."
—E.M. Powell, author of the Stanton & Barling medieval mystery series
"With rich writing, surprising twists, and a riveting sense of 'you are there,' The Blue is spine-tingling entertainment."
—Gayle Lynds, New York Times bestselling author of The Assassins
"Bilyeau deftly weaves extensive historical detail throughout, but the real draw of this suspenseful novel is its juicy blend of lust, murder, conspiracy, and betrayal."
—Review of The Crown published in Oprah, which made the book a pick of the month.
"Nancy Bilyeau's polished, inventive debut has all the ingredients of the best historical fiction: a broad cast of characters, well-imagined settings, and vivid story-telling... In Joanna Stafford, Bilyeau has given us a memorable character who is prepared to risk her life to save what she most values, while Stafford's desperate search for a lost religious relic will satisfy even the most ardent mystery fans."
—Deborah Harkness, author of A Discovery of Witches
---
For the latest on Nancy's book series, her nonfiction articles on history, her book reviews, giveaways, contests and more, sign up for her newsletter here:

Follow Nancy on Twitter to find out news on her books and tidbits on history @tudorscribe

Like Nancy's Facebook author page at NancyBilyeauAuthor
© Nancy Bilyeau.