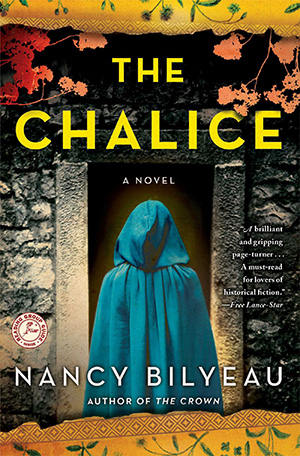 What would you sacrifice to protect your way of life? In the sixteenth century, a young nun risks everything to defy the most powerful authorities, fulfill a prophecy, and preserve the future of Christendom.
Between the crown and the cross stands one woman.
In 1538, England is in the midst of bloody power struggles that threaten to tear the country apart. Aristocrat-turned-novice Joanna Stafford knows what lies inside the king's torture rooms and risks imprisonment when she is caught up in an international plot targeting the king. As the power plays turn vicious, Joanna understands she may have to assume her role in a prophecy foretold by three different seers.
Joanna realizes the life of Henry VIII, as well as the future of Christendom, are in her hands—hands that must someday hold the chalice that lies at the center of these deadly prophecies…
Buy The Chalice
Praise For The Chalice
"English history buffs and mystery fans alike will revel in Nancy Bilyeau's richly detailed sequel to The Crown."
—Parade
"The novel is riveting, and provides fascinating insight into the lives of displaced nuns and priests during the tumultuous Tudor period. Bilyeau creates fully realized characters, with complex actions and emotions, driving the machinations of these historic personages."
—Romantic Times Book Reviews, Top Pick
"The Chalice is an engrossing mix of the complicated politics of the Reformation with the magical elements of the Dominican order, and Joanna—fiery, passionate, determined to honor what she thinks God wants her to do—is a fascinating character. Fans of historical mysteries, Tudor politics and supernatural fiction will all be pleased by the broad scope, quick-moving plot and historical integrity of Bilyeau's second novel."
—Shelf Awareness
WINNER – Best Historical Mystery of 2013 (Romantic Times Book Review Awards)