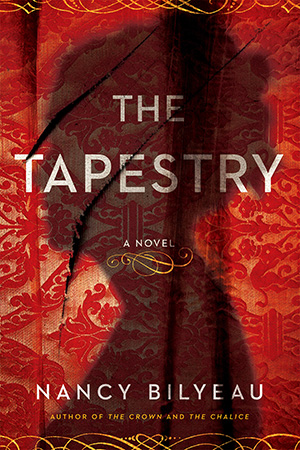 Henry VIII's Palace of Whitehall is the last place on earth Joanna Stafford wants to be. But a summons from the king cannot be refused.

After her priory was destroyed, Joanna, a young Dominican novice, vowed to live a quiet life, weaving tapestries and shunning dangerous conspiracies. That all changes when the king takes an interest in her tapestry talent.

With a ruthless monarch tiring of his fourth wife and amoral noblemen driven by hidden agendas, Joanna becomes entangled in Tudor court politics. Her close friend, Catherine Howard. is rumored to be the king's mistress, and Joanna is determined to protect her from becoming the king's next wife—and victim. All the while, Joanna tries to understand her feelings for the two men in her life: the constable who tried to save her and the friar she can't forget.

In a world of royal banquets, jousts, sea voyages and Tower Hill executions, Joanna must finally choose her future: nun or wife, spy or subject, rebel or courtier.

The Tapestry is the final book in a Tudor trilogy that began in 2012 with The Crown, an Oprah magazine pick. Don't miss the adventures of one of the most unforgettable heroines in historical fiction.
Buy The Tapestry
Praise For The Tapestry
"Illuminated by Bilyeau's vivid prose, minor players of Tudor England emerge from the shadows."
—Kirkus Reviews
"Nancy Bilyeau's passion for history infuses her books and transports us back to the dangerous world of Tudor England. Vivid characters and gripping plots are at the heart of this wonderful trilogy, and this third book will not fail to thrill readers. Warmly recommended!"
—Alison Weir, author of The Marriage Game
"In The Tapestry, Nancy Bilyeau brilliantly captures both the white-hot religious passions and the brutal politics of Tudor England. It is a rare book that does both so well."
—Sam Thomas, author of The Midwife's Tale
"In spite of murderous plots, volatile kings, and a divided heart, Joanna Stafford manages to stay true to her noble character. Fans of Ken Follett will devour Nancy Bilyeau's novel of political treachery and courageous love, set amid the endlessly fascinating Tudor landscape."
—Erika Robuck, author of Hemingway's Girl