"Nancy Bilyeau's passion for history infuses her books."
–bestselling historian and novelist Alison Weir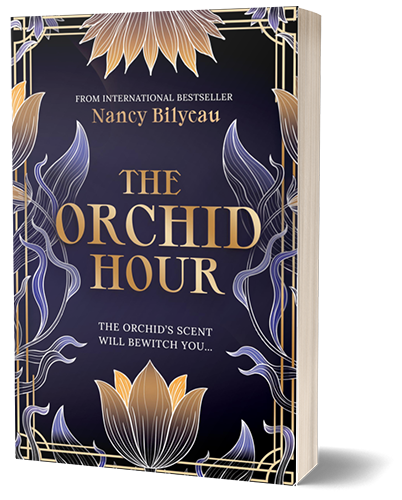 There is a certain hour, in the dead of night, when the orchid's scent can put you under a spell…
To be published August 10, 2023, in the U.S., the UK, Canada, and Australia, in original paperback and ebook.
Pre-order here:
About Nancy
Born in Chicago and a graduate of the University of Michigan, Nancy moved to New York City to enter the magazine business. After working for publications ranging from Rolling Stone to Good Housekeeping, she turned to fiction. She wrote the Joanna Stafford trilogy, a trio of thrillers set in Henry VIII's England, for Touchstone/Simon & Schuster. Her fourth novel is The Blue, an 18th-century thriller revolving around the art & porcelain world set during the Seven Years' War. Its 2022 sequel, The Fugitive Colours, is a mystery about the art world of London. Her latest novel, The Orchid Hour, returns to the early 20th century New York of her 2020 novel Dreamland.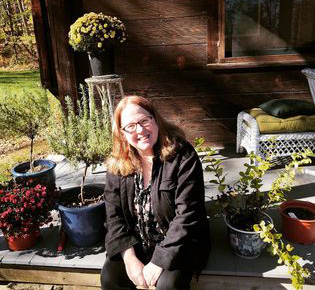 THE ORCHID HOUR
Nancy Bilyeau, author of The Blue, returns with a tantalizing novel about one woman caught up in a secret nightclub that one can only reach through a certain florist on a cobblestone street.
New York City, 1923. Zia De Luca's life is about to be shattered. Having lost her husband to The Great War, she lives with her son and in-laws in Little Italy and works at the public library. But when a quiet poetry lover is murdered outside the library, the police investigation focuses on Zia. After a second tragedy strikes even closer to home, Zia learns that both crimes are connected to a new speakeasy in Greenwich Village called The Orchid Hour.
When the police investigation stalls, Zia decides to find her own answers. A cousin with whom she has a special bond serves as a guide to the shadow realm of the Orchid Hour, a world filled with enticements Zia has shunned up to now. She must contend with a group of players determined to find wealth and power in New York on their own terms. In this heady atmosphere, Zia begins to wonder if she too could rewrite her life's rules. As she's pulled in deeper and deeper, will Zia be able to bring the killers to justice before they learn her secret?
"Nancy Bilyeau has created a beautifully layered and utterly seductive tale of a young woman's emotional awakening and search for justice, set against the dangerous criminal world of the 1920s New York City underground. The past comes thrillingly alive as Bilyeau lifts the veil on immigrant communities, speakeasies, gangsters, corruption at the highest levels of city government, and, at its living, tender heart, a strong-willed and magnetic heroine."
—Emilya Naymark, author of Behind the Lie, finalist for the 2023 Sue Grafton Award
---
Praise for Nancy Bilyeau's Other Books:
The Crown:
"Bilyeau deftly weaves extensive historical research throughout, but the real draw of this suspenseful novel is its juicy blend of lust, murder, conspiracy, and betrayal."
—O, The Oprah Magazine, pick of the month
"Part The Da Vinci Code, part The Other Boleyn Girl, The Crown will keep you guessing until the very end!"
—Woman's Day
"In her debut, Bilyeau delivers an engrossing thriller about a 16th-century Dominican novice caught up in royal intrigue … her extensive historical research shines." –Entertainment Weekly magazine

"In Joanna Stafford, Bilyeau has given us a memorable character who is prepared to risk her life to save what she most values."
—Deborah Harkness, author of Discovery of Witches
The Blue:
"Fascinating"
—Ian Rankin, author of the Inspector Rebus series
"Definitely a winner!"
—Kate Quinn, author of The Alice Network
"Transports the reader into the heart of the 18th century porcelain trade—where the price of beauty was death"
—E.M. Powell, author of the Stanton & Barling medieval mystery series
Dreamland:
"Outstanding thriller… Bilyeau populates her story with achingly believable, realistically flawed characters. This fascinating portrait of the end of the Gilded Age deserves a wide audience."
—Publishers Weekly STARRED review
"I could practically taste the salt-water taffy and smell the ocean air as I read Bilyeau's latest, set in 1911 Coney Island. Beautifully written and impeccably researched, Dreamland is a rollicking ride."
—Fiona Davis, author of The Dollhouse and The Chelsea Girls
---
For the latest on Nancy's book series, her nonfiction articles on history, her book reviews, giveaways, contests and more, sign up for her newsletter here: