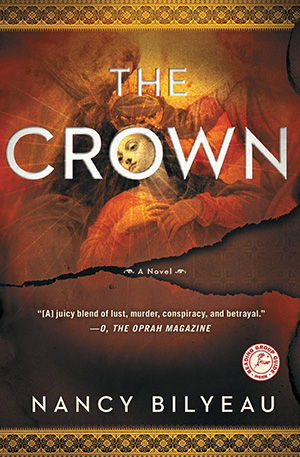 An aristocratic young nun must find a legendary crown in order to save her father—and preserve the Catholic faith from Cromwell's ruthless terror. The year is 1537. . .
Joanna Stafford, a Dominican nun, learns that her favorite cousin has been condemned by Henry VIII to be burned at the stake. Defying the sacred rule of enclosure, Joanna leaves the priory to stand at her cousin's side. Arrested for interfering with the king's justice, Joanna, along with her father, is sent to the Tower of London.
The ruthless Stephen Gardiner, Bishop of Winchester, takes terrifying steps to force Joanna to agree to spy for him: to save her father's life she must find an ancient relic—a crown so powerful, it may hold the ability to end the Reformation. Accompanied by two monks, Joanna returns home to Dartford Priory and searches in secret for this long-lost piece of history worn by the Saxon King Athelstan in 937 during the historic battle that first united Britain.
But Dartford Priory has become a dangerous place, and when more than one dead body is uncovered, Joanna departs with a sensitive young monk, Brother Edmund, to search elsewhere for the legendary crown. From royal castles with tapestry-filled rooms to Stonehenge to Malmesbury Abbey, the final resting place of King Athelstan, Joanna and Brother Edmund must hurry to find the crown if they want to keep Joanna's father alive. At Malmesbury, secrets of the crown are revealed that bring to light the fates of the Black Prince, Richard the Lionhearted, and Katherine of Aragon's first husband, Arthur. The crown's intensity and strength are beyond the earthly realm and it must not fall into the wrong hands.
With Cromwell's troops threatening to shutter her priory, bright and bold Joanna must now decide who she can trust with the secret of the crown so that she may save herself, her family, and her sacred way of life. This provocative story melds heart-stopping suspense with historical detail and brings to life the poignant dramas of women and men at a fascinating and critical moment in England's past.
Download or read an excerpt at Scribd.com
Buy The Crown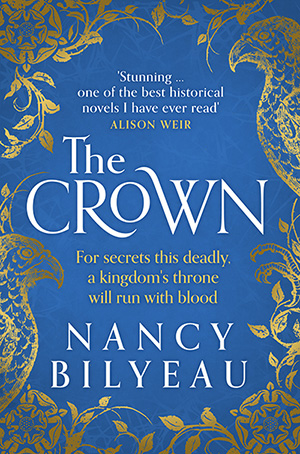 Praise for The Crown
"A stunning debut. One of the best historical novels I have ever read."
—Alison Weir, historian and bestselling author of A Dangerous Inheritance and The Six Wives of Henry VIII
"Bilyeau deftly weaves extensive historical detail throughout, but the real draw of this suspenseful novel is its juicy blend of lust, murder, conspiracy, and betrayal."
—O, The Oprah Magazine
"When her cousin is condemned to death by King Henry VIII, daring young nun Joanna Stafford risks everything to be by her side."
—People Magazine
"An inventive thriller… A captivating heroine, Sister Joanna Stafford will have you eagerly following every step of the quest."
—Parade Magazine
"In her debut, The Crown, Bilyeau… delivers an engrossing thriller about a 16th-century Dominican novice caught up in royal intrigue… Her extensive historical research shines."
—Entertainment Weekly
"The right sort of action to lure fans of historical fiction: righteous nuns, evil bishops, real-world figures and a potential burning at the stake."
—Time Out New York
"A captivating thriller"
—All You Magazine
"Part Da Vinci Code, Part The Other Boleyn Girl, it will keep you guessing until the very end."
—Woman's Day Magazine
"I found the view into life in the Cloister to be of great interest in this novel. Bilyeau captures the frustration of those who are told, suddenly and without choice, to change their faith."
—Historical Novels Review
"This brisk tale of Tudor intrigue will keep you up long past your bedtime"
—Renaissance Magazine
"Nancy Bilyeau's polished, inventive debut has all the ingredients of the best historical fiction: a broad cast of characters, well-imagined settings, and vivid story-telling. . . . In Joanna Stafford, Bilyeau has given us a memorable character who is prepared to risk her life to save what she most values, while Stafford's desperate search for a lost religious relic will satisfy even the most ardent mystery fans."
—Deborah Harkness, author of A Discovery of Witches
"The Crown by Nancy Bilyeau is an amazing first novel, filled with excitement, intrigue, espionage, and set against the background of one of the bloodiest periods of British history; the schism between Church and State. It's an action-packed tale of one nun's dangerous quest to discover the secrets of an ancient relic that dates back to the time of Christ."
—Katherine Neville, author of The Eight
"The events of the period come to life in Nancy Bilyeau's dazzling and heart-wrenching novel. THE CROWN is evocative, provocative, and full of intriguing characters—a gorgeously written novel that has mystery and history, pathos and depth. This is a stunning debut about a woman whose spirit shines through and deeply moves the reader."
—International Bestseller M.J. Rose
"Strong character development, realistic historical detail, and an atmosphere of pervasive tension coupled to a fast-paced plot make it compulsively readable."
—Booklist
"This fast-paced debut delivers Tudor intrigue and mystical thrills in one satisfying package—and leaves room for a sequel."
—Kirkus
"…will appeal to fans of Dan Brown and Philippa Gregory."
—Library Journal