Press / Events
September 29, 2022
"Trauma, Drama, or Revenge: Why We Love Reading (and Writing!) Psychological Thrillers"
Online author panel
New City Library, NY
7-8:15 PM Eastern Time
October 4, 2022
"Ghost Stories by the Fire"
Barrow's Intense Tasting Room
86 34th Street
Brooklyn, NY 11232
Kris Waldherr launches her new novel Unnatural Creatures, with ghost stories from Nancy Bilyeau, Heather Webb, Elizabeth Keri Mahon, and Finola Austin
7 PM
Earlier Events:
May 14, 2022
Launch for The Fugitive Colours
Presented by The Golden Notebook
Address of Event:
Nancy's Artisanal Creamery
297 Tinker Street
Woodstock, NY 12498
2 PM
January 26, 2022
Historical Novel Society - NYC Chapter
Moderating online author panel, "From Byzantine Greece to WWII Shanghai," with Weina Dai Rendel & Melodie Winawer
Watch the replay on YouTube
September 14, 2021
Writing and Researching Crime Books
Emilya Naymark, Elena Taylor, Nancy Bilyeau, Tracee de Hahn
Online conversation via Zoom, presented by the New City Library, New City, NY
June 24-26, 2021
Historical Novel Society North America Conference (virtual)
Nancy appeared on the following panels:
ART & SPIRIT SHESTORIES: REBEL MYSTICS
Nancy Bilyeau, Stephanie Renee dos Santos, Laura Morelli, Kris Waldherr
SAINTS, SEERS, AND HERETICS: EVOKING THE SPIRITUAL WORLD IN HISTORICAL FICTION
Nancy Bilyeau, Glen Craney, Tinney S. Heath, Mitchell James Kaplan
VOICES THAT SHOOK UP THE PAST
Annamaria Alfieri, James R. Benn, Nancy Bilyeau, Michael Cooper
June 19, 2021
Reading in Woodstock, NY
Author reading with Moon Zappa, Shawne Johnson & Katharine McKenna at Byrdcliffe Art Colony
In-person and on Zoom
Praise for THE TAPESTRY: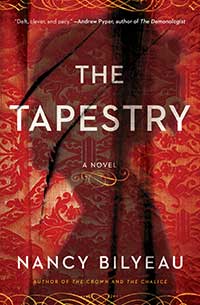 "Nancy Bilyeau's passion for history infuses her books and transports us back to the dangerous world of Tudor England. Vivid characters and gripping plots are at the heart of this wonderful trilogy, and this third book will not fail to thrill readers. Warmly recommended!"
—Alison Weir, author of The Marriage Game
"Illuminated by Bilyeau's vivid prose, minor players of Tudor England emerge from the shadows."
—Kirkus Reviews
"A supremely deft, clever and pacy entertainment. This is Nancy Bilyeau's most thrilling—and enlightening—novel in the Joanna Stafford series yet."
—Andrew Pyper, author of The Demonologist and The Damned
"A master of atmosphere, Nancy Bilyeau imbues her novel with a sense of dread and oppression lurking behind the royal glamour; in her descriptions and characterizations... Bilyeau breathes life into history."
—Laura Andersen, author of The Boleyn King
"In The Tapestry, Nancy Bilyeau brilliantly captures both the white-hot religious passions and the brutal politics of Tudor England. It is a rare book that does both so well."
—Sam Thomas, author of The Midwife's Tale
"In spite of murderous plots, volatile kings, and a divided heart, Joanna Stafford manages to stay true to her noble character. Fans of Ken Follett will devour Nancy Bilyeau's novel of political treachery and courageous love, set amid the endlessly fascinating Tudor landscape."
—Erika Robuck, author of Hemingway's Girl
"These aren't your mother's nuns! Nancy Bilyeau has done it again, giving us a compelling and wonderfully realized portrait of Tudor life in all its complexity and wonder. A nun, a tapestry, a page-turning tale of suspense: this is historical mystery at its finest."
—Bruce Holsinger, author of A Burnable Book and The Invention of Fire
Praise for THE CHALICE: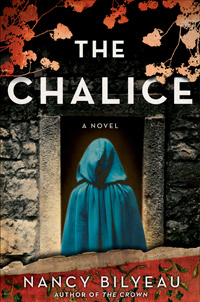 "English history buffs and mystery fans alike will revel in Nancy Bilyeau's richly detailed sequel to THE CROWN."
—Parade
"Bilyeau sends her plucky former novice back into the intrigue-laden court of Henry VIII."
—Entertainment Weekly
"Nancy Bilyeau's Ellis Peters Historical Award-nominated novel THE CROWN and its sequel THE CHALICE are set during the turbulence of 1538 and the dissolution of the monasteries. Her heroine Joanna Stafford is a young novice caught up in power struggles familiar to readers of Hilary Mantel and C.J. Sansom, but with elements of magic that echo the historical thrillers of Kate Mosse."
—S.J. Parris, author of Heresy, Sacrilege, and Prophecy
"THE CHALICE is a compelling and pacey time machine to the 16th Century. And when you're returned to the present, you'll have enjoyed an adventure and gained a new perspective on a past you'd wrongly thought to be a done deal."
—Andrew Pyper, author of The Demonologist
"The novel is riveting, and provides fascinating insight into the lives of displaced nuns and priests during the tumultuous Tudor period. Bilyeau creates fully realized characters, with complex actions and emotions, driving the machinations of these historic personages."
—Romantic Times Book Reviews, Top Pick
"THE CHALICE is an engrossing mix of the complicated politics of the Reformation with the magical elements of the Dominican order, and Joanna—fiery, passionate, determined to honor what she thinks God wants her to do—is a fascinating character. Fans of historical mysteries, Tudor politics and supernatural fiction will all be pleased by the broad scope, quick-moving plot and historical integrity of Bilyeau's second novel."
—Shelf Awareness
"I loved the story, the characters, and the rich detail of the novel, making you feel you are there with Joanna on every page. So much emotion and drama—as well as facts to keep you riveted from the first page. And surprise twists for even the most hard to please mystery fans! I loved it."
—Bonnie Somerville, DuJour magazine
"Bilyeau paints a moving portrait of Catholicism during the Reformation and of reclusive, spiritual people adjusting to the world outside the cloister. This intriguing and suspenseful historical novel pairs well with C. J. Sansom's Dissolution (2003) and has the insightful feminine perspective of Brenda Rickman Vantrease's The Heretic's Wife (2010)."
—Booklist
"Rarely have the terrors of Henry VIII's reformation been so exciting. Court intrigue, bloody executions, and haunting emotional entanglements create a heady brew of mystery and adventure that sweeps us from the devastation of the ransacked cloisters to the dangerous spy centers of London and the Low Countries, as ex-novice Joanna Stafford fights to save her way of life and fulfill an ancient prophecy, before everything she loves is destroyed."
—C.W. Gortner, author of The Queen's Vow
"Superbly set in the political and religious turmoil between Henry VIII's queens Jane Seymour and Anne of Cleves, THE CHALICE is a dark, twisty thriller that I couldn't put down. Nancy Bilyeau's extensive historical research makes the sense of dread, danger, and mysticism permeating this era tangible. Ex-Dominican novice Joanna Stafford is an especially compelling and sympathetic heroine—I adored her!"
—Kris Waldherr, author of Doomed Queens
"An exciting and satisfying novel of historical suspense that cements Nancy Bilyeau as one of the genre's rising stars. The indominable Joanna Stafford is back with a cast of powerful and fascinating characters and a memorable story that is gripping while you are reading and haunting after you are done. Bravo! THE CHALICE is a fabulous read."
—M.J. Rose, author of The Reincarnationist
"THE CHALICE offers a fresh, dynamic look into Tudor England's most powerful, volatile personalities: Henry VIII, the Duke of Norfolk, Stephen Gardiner and Bloody Mary Tudor. Heroine and former nun Joanna Stafford is beautiful, bold and in lethal danger. Bilyeau writes compellingly of people and places that demand your attention and don't let you go even after the last exciting page."
—Karen Harper, author of Mistress of Mourning
"[A] layered book of historical suspense."
—Kirkus Reviews
Praise for THE CROWN: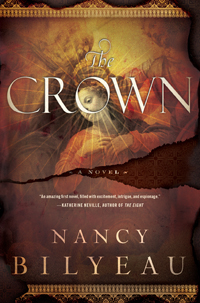 "A stunning debut. One of the best historical novels I have ever read."
—Alison Weir, historian and bestselling author of A Dangerous Inheritance and The Six Wives of Henry VIII
"Bilyeau deftly weaves extensive historical detail throughout, but the real draw of this suspenseful novel is its juicy blend of lust, murder, conspiracy, and betrayal."
—O, The Oprah Magazine
"When her cousin is condemned to death by King Henry VIII, daring young nun Joanna Stafford risks everything to be by her side."
—People Magazine
"An inventive thriller... A captivating heroine, Sister Joanna Stafford will have you eagerly following every step of the quest."
—Parade Magazine
"In her debut, THE CROWN, Bilyeau... delivers an engrossing thriller about a 16th-century Dominican novice caught up in royal intrigue... Her extensive historical research shines."
—Entertainment Weekly
"The right sort of action to lure fans of historical fiction: righteous nuns, evil bishops, real-world figures and a potential burning at the stake."
—Time Out New York
"A captivating thriller"
—All You Magazine
"Part Da Vinci Code, Part The Other Boleyn Girl, it will keep you guessing until the very end."
—Woman's Day Magazine
"I found the view into life in the Cloister to be of great interest in this novel. Bilyeau captures the frustration of those who are told, suddenly and without choice, to change their faith."
—Historical Novels Review
"This brisk tale of Tudor intrigue will keep you up long past your bedtime"
—Renaissance Magazine
"Nancy Bilyeau's polished, inventive debut has all the ingredients of the best historical fiction: a broad cast of characters, well-imagined settings, and vivid story-telling. . . . In Joanna Stafford, Bilyeau has given us a memorable character who is prepared to risk her life to save what she most values, while Stafford's desperate search for a lost religious relic will satisfy even the most ardent mystery fans."
—Deborah Harkness, author of A Discovery of Witches
"THE CROWN by Nancy Bilyeau is an amazing first novel, filled with excitement, intrigue, espionage, and set against the background of one of the bloodiest periods of British history; the schism between Church and State. It's an action-packed tale of one nun's dangerous quest to discover the secrets of an ancient relic that dates back to the time of Christ."
—Katherine Neville, author of The Eight
"The events of the period come to life in Nancy Bilyeau's dazzling and heart-wrenching novel. THE CROWN is evocative, provocative, and full of intriguing characters—a gorgeously written novel that has mystery and history, pathos and depth. This is a stunning debut about a woman whose spirit shines through and deeply moves the reader."
—International Bestseller M.J. Rose
"Strong character development, realistic historical detail, and an atmosphere of pervasive tension coupled to a fast-paced plot make it compulsively readable."
—Booklist
"This fast-paced debut delivers Tudor intrigue and mystical thrills in one satisfying package—and leaves room for a sequel."
—Kirkus
"...will appeal to fans of Dan Brown and Philippa Gregory."
—Library Journal
© Nancy Bilyeau.